Product Description
Payment & Shipping Terms
Supply Capacity
Payment Terms:
T/T
Production Capacity:
10000 Piece/Pieces per...
Min. Order:
1000 Piece/Pieces
Packing:
according to clients'...
Means of Transport:
Ocean
Delivery Date:
30 days
A356T6 Aluminium sand casting foundry over 10 years experience in aluminium sand casting and CNC manufacturing in Ningbo China



Thanks for your interesting with our A356, A356-T6 aluminium alloy casting products!!
Aluminum A356 T6 is an American aluminum alloy casting material. It performs T6 heat treatment after casting. It mainly be used in aluminum sand casting and aluminum gravity casting. After heat treatment, the A356-T6 aluminum castings can have a much stronger mechanical properties.
And our aluminum casting foundry have more than 10 years experience in A356 casting and A356 T6 castings manufacture both in aluminum sand casting and aluminum gravity casting. As an aluminum sand casting supplier, manufacturer in Ningbo, China, our aluminum casting foundry sells the aluminum products all over the world. The aluminum A356T6 casting products we can supply include aluminum castings chimney cap, custom aluminum castings, cast aluminum parts, aluminum castings pulley, cast aluminum products, cast aluminum components, Aluminum castings decoration parts, aluminum castings industry parts, aluminum castings wheels, aluminum sand cast bracket, aluminum castings pump body, aluminum castings cylinder, aluminum castings gear housing, aluminum castings motor cover etc.
Production
-Our aluminum casting foundry are specialized in manufacturing aluminum sand castings, as well as CNC machining for sand castings.
-Tooling design & manufacture for aluminum sand casting
-Design capability for aluminum sand casting parts
-aluminum sand casting heat treatment with F, T1, T2, T4, T6, T5, T651
-excellent surface treatment technique for sand casting aluminum part: alodine, powder coating, plating, mirror polishing, Nickel plate, chromate plating, zinc plating, gold finish, matt polishing, e-coating, wet painting, passivation and etc.
Material for aluminum sand casting: different country have different aluminum, here below are the table for the material from different country:
A356 ALUMIINUM alloy CASTING MATERIAL COMPARISON TABLE
China
USA


UK
France
Germany
Japan
ISO
GB
ASTM
ANSI
BS
NF
DIN
JIS
ZL101
A03560
356
\
A-S7C
G-AlSi7Mg
AC4C
AlSi7Mg
ZL101A
A13560
A356.0
\
\
\
\
AlSi7MgA
And below is the chemical component for A356 and A356 T6 aluminum casting:
Type
Chemical Component (%)






Al
Si
Fe(max.)
Cu
Mn (max.)
Mg(max.)
Cr
Ni(max.)
Zn(max.)
Sn(max.)
Ti
Other(max.)
A356.0
Remain
6.5-7.5
0.2
0.2
0.1
0.25-0.45
\
\
0.1
\
0.2
0.15
A380
Remain
7.5-9.5
1.3
3.0-4.0
0.5
0.1
\
0.5
3
0.35
\
0.5
ADC12
Remain
9.6-12
1.3
1.5-3.5
0.5
0.3
\
0.5
1
0.3
\
0.5
And below are the mechanical properties with A356 and A356 T6 aluminum casting:
A356, A356-T6 Mechanical Properties
Type
Tensile Strength


Yield Strength


Elongation
Mpa
Mpa
%
A356
130
65
2
A356-T6
205
140
3
Quality control for aluminium sand casting
Our company quality controls are carried out on incoming materials, production processes, finished products and services in compliance with the regulations of ISO9000:2008.
Delivery
-For our new customer, we will arrange the contact review meeting to confirm the stable delivery time after receiving the purchase order, The delivery time we adviced is reasonable and precision.
-we will produce some extra goods in our warehouse for stock each time, so anytime you need the delivery is possible.
-If the production meet resistance and may influence the delivery, we will inform to you in the first time. And we take the most efficent plan to solve the problem.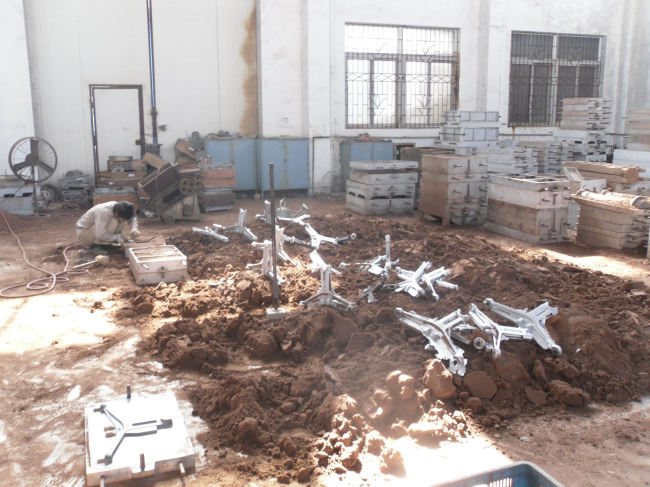 Category: casting parts